Management tools are tools to support CheX's large-scale deployment
In a single CheX, if you have multiple projects (site) contracts, you must log in to the project individually and manage the information,
move the user between the projects and collectively modify the user information, use the file Capacity etc can not be grasped at once.

With the management tool, you can grasp all project information managed under just logging in once.
In addition, it is possible to collect all users managed by each project collectively from the master data,
and administrators (branch managers) can be arranged for each group, enabling large-scale deployment such as company basis.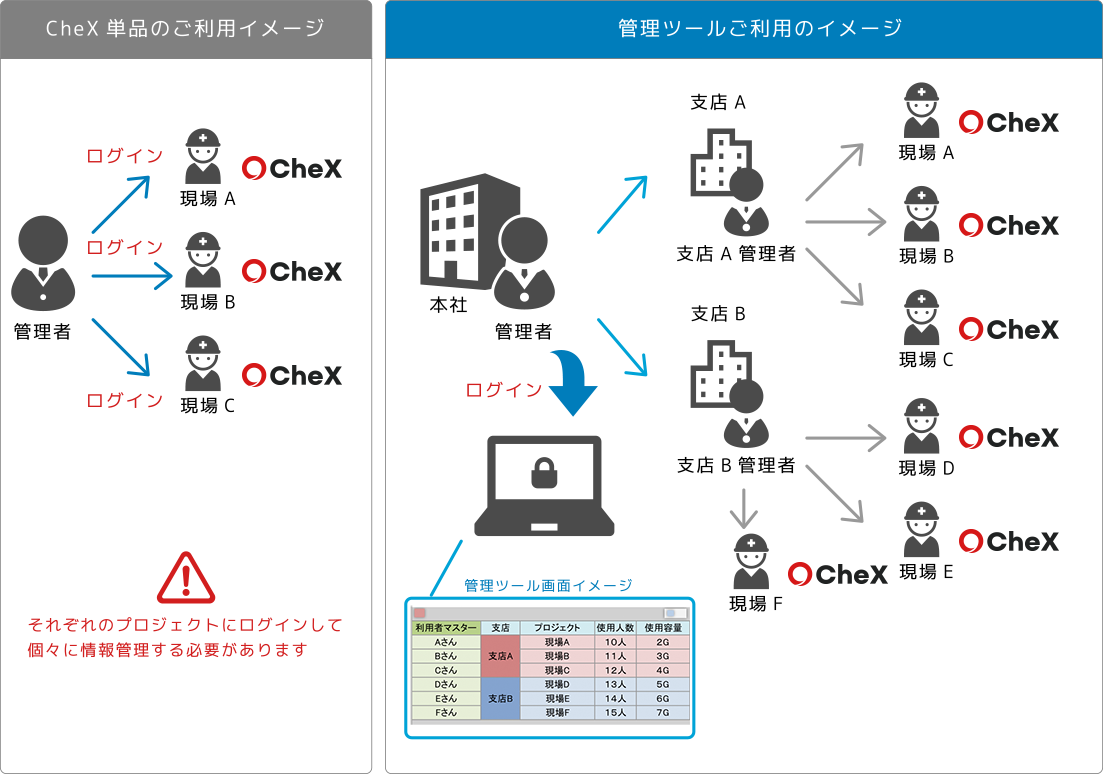 1.Unified management of user information with master data
In the management tool, since the administrator can manage all projects and users, it is also possible to move users between projects and collectively change user information belonging to multiple projects.
■People can move between projects.


Example) Mr. A is moved from site A to site B

■User information is reflected in all the assigned projects.


Example) Changing the last name of Mr. A
reflects the information of Mr. A who is assigned to Mr. A on both the site A and the site B
2.Confirm the list of project status under the jurisdiction
You can confirm the usage status for each project and export it.
Access logs can also be downloaded,
making it easier to grasp the status of the project.
■Confirmation and output of number of users, number of files,
file size, photo capacity, total capacity possible
■Access log can be downloaded by application (CheX or management tool),
target (company, branch, project),
year / month designation
■Project information and user information can be exported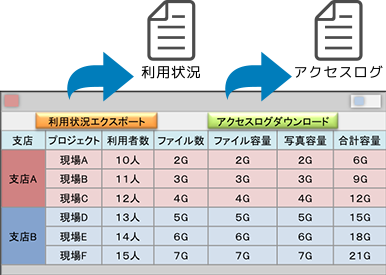 3.Register user / project data collectively
Even when the number of users increases or if you want to operate multiple projects, you can register and delete them all at once.
You can also link with personnel data you are using.
■Collective import of project / user data
is possible from external file.
■It is possible to delete multiple projects at once.
■It is possible to capture personnel data in a regular batch.


*Separate consultation