Notice2021/02/24
[Important] Request for reinstallation of New Adobe AIR
Dear Customers,

Thank you for using CheX, LAXSY, and AQuick.

Since the beginning of this year, we have been unable to download the "Adobe AIR Runtime" that is required to run the PC version of each product,which was caused by the reason that the provider of "Adobe AIR" was transferred from Adobe to HARMAN. Now we would like to inform all customers that we are ready to provide our each product without any problems on the "New Adobe AIR".
We apologize for any inconvenience and thank you for your understanding.


[Background]
*The provider of "Adobe AIR" was transferred from Adobe to HARMAN.
The "Adobe AIR installer" was temporarily unavailable for download.
*HARMAN announced "HARMAN's Adobe AIR" and made it available for download.
As a result of our internal verification, we have confirmed that our product operates without any problems in the Windows OS environment.
*However, since Adobe will not support or update Adobe AIR in the future, we have decided to ask all customers to install HARMAN's Adobe AIR.
*As a result, the operation of our products with "Adobe's Adobe AIR" will no longer be guaranteed as of April 30, 2021. Therefore, we would like to ask customers who fall under the following categories to install "Adobe AIR by HARMAN" before the deadline.

[Customers who need to install]
All customers who are using the PC version (Windows version) of each products.


The following two points are required.
1. Please update each product to the latest version below.
   CheX :Ver.2.35.2
   LAXSY :Ver.2.10.12
   AQuick :Ver.2.10.12


2.Installation of "Adobe AIR for Windows" by HARMAN

 (1) Access the HARMAN website.
   https://airsdk.harman.com/runtime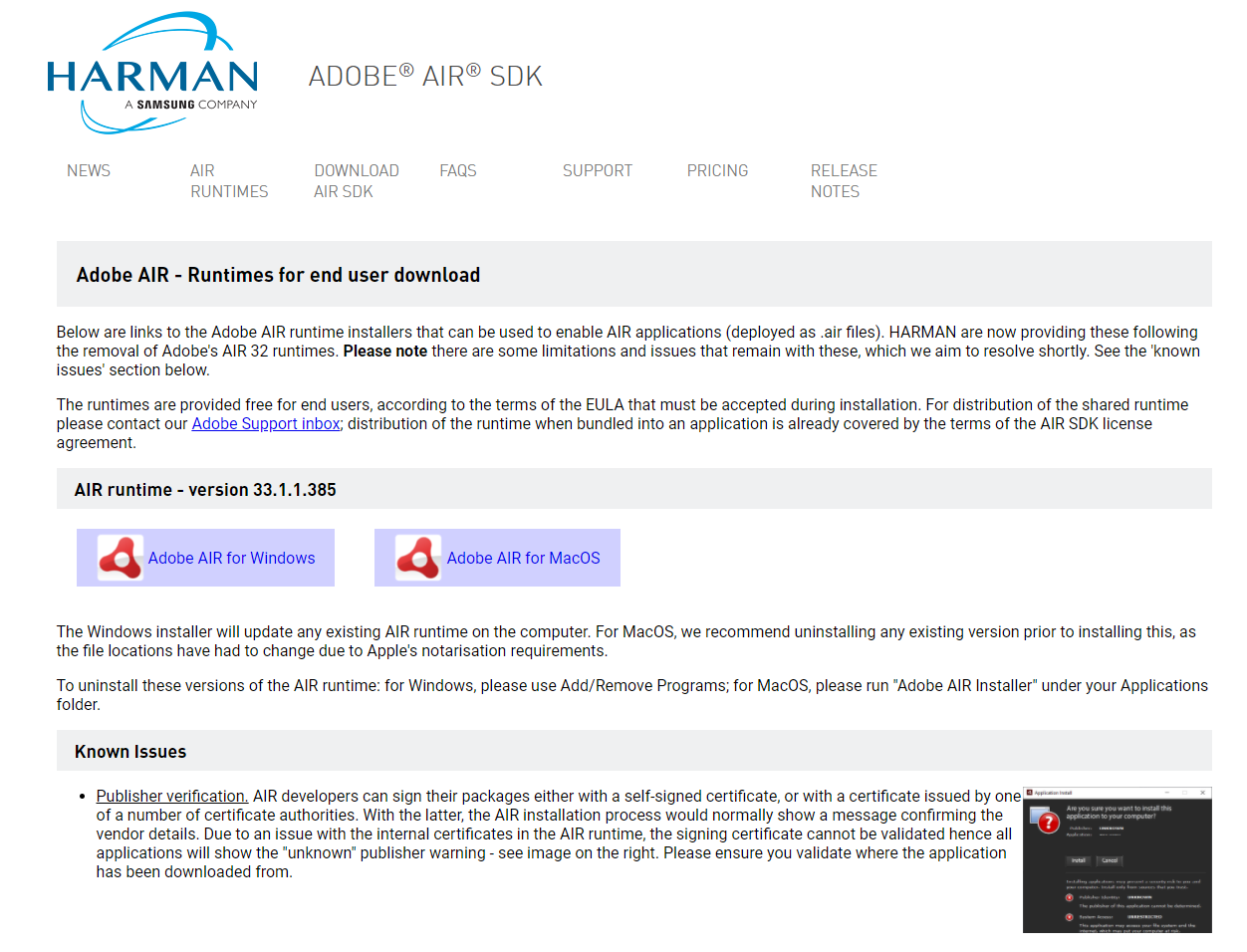 (2) Click on the banner that says "Adobe AIR for Windows" and download "AdobeAIR.exe".
   




 (3) Follow the instructions of the installer to proceed with the installation.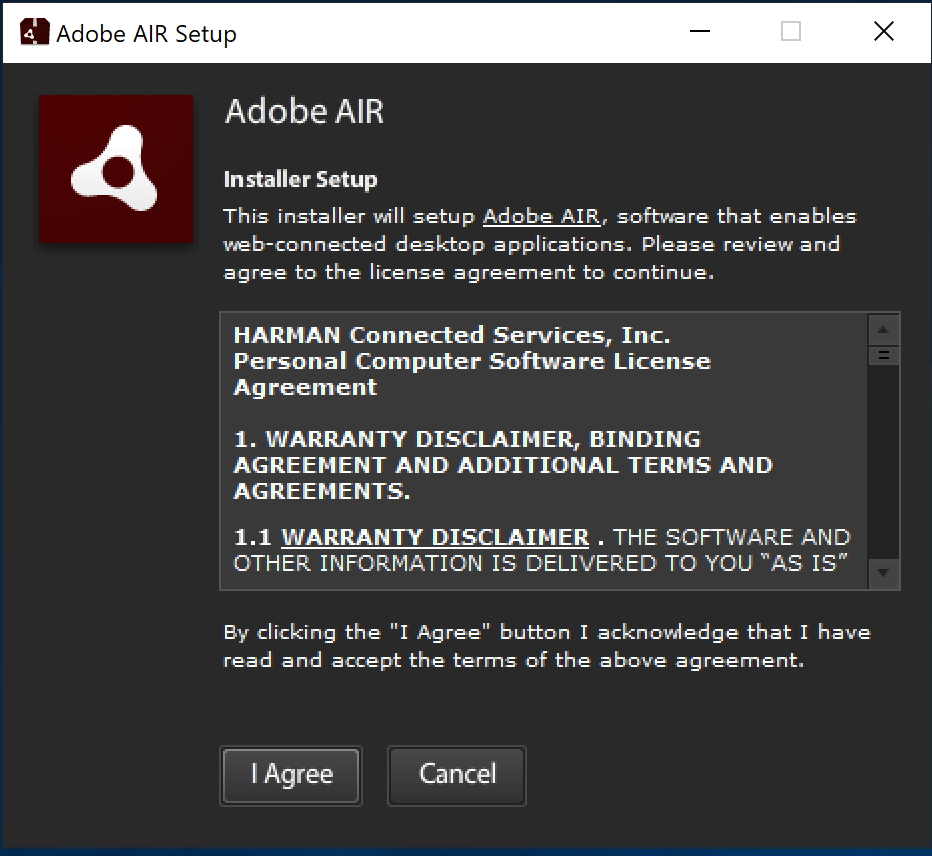 Please note the following
*If you install CheX, LAXSY, or AQUICK after installing "HARMAN Adobe AIR", the following message will be displayed. Please click the "Install" button to install them.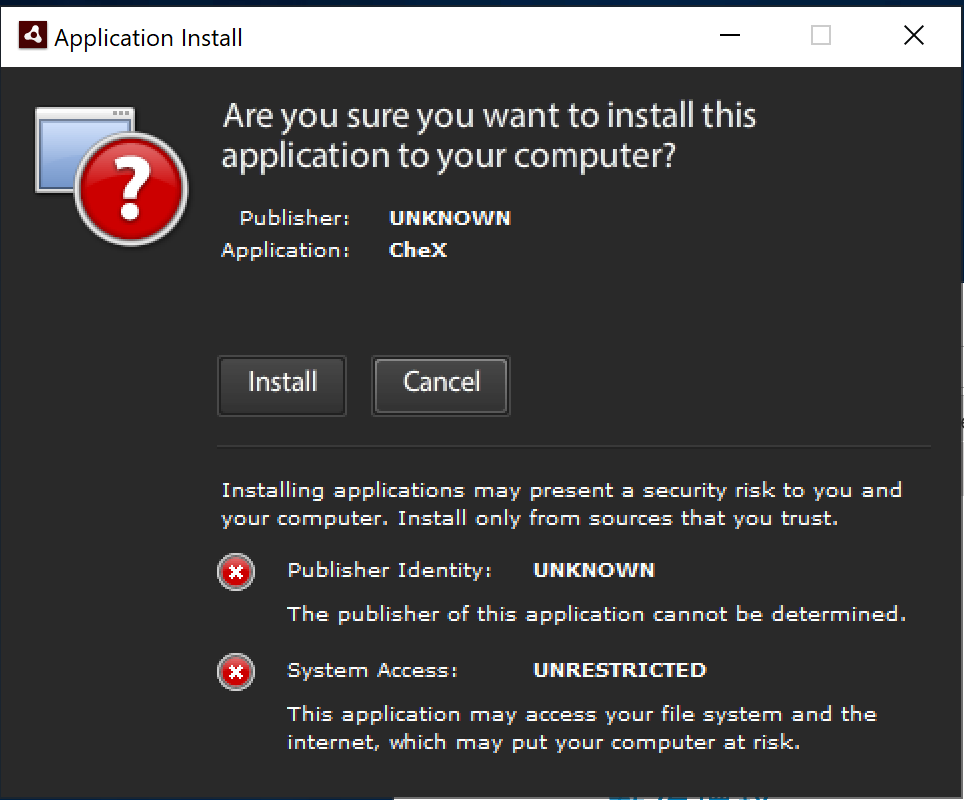 If you see the following screen, it is possible that you do not have the latest PC versions of CheX, LAXSY, or AQuick installed. Please update to the latest version.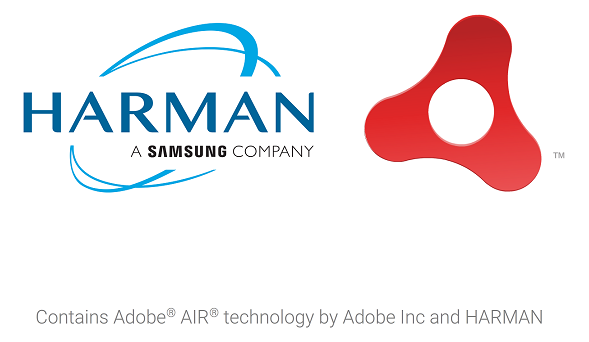 *HARMAN is a company that has been supporting Adobe AIR as an Adobe partner.
*The software name will continue to be Adobe AIR even after it is transferred to HARMAN.
*The Mac version is currently under investigation. Please wait for a while.

We sincerely apologize for any inconvenience caused.
YSL Solution Co., Ltd.
Inquiry Forms
https://chex.jp/en/inquiry

NEWS